The Safest & Most Effective Way To Lose Fat
How it Works?
Target fat exactly where you want to.

Full body fat loss treatment that allows clients to target areas of stubborn fat. Emerald Laser treats overall body circumference and is the only device FDA cleared to treat individuals up to 40 BMI.
Book your Appointment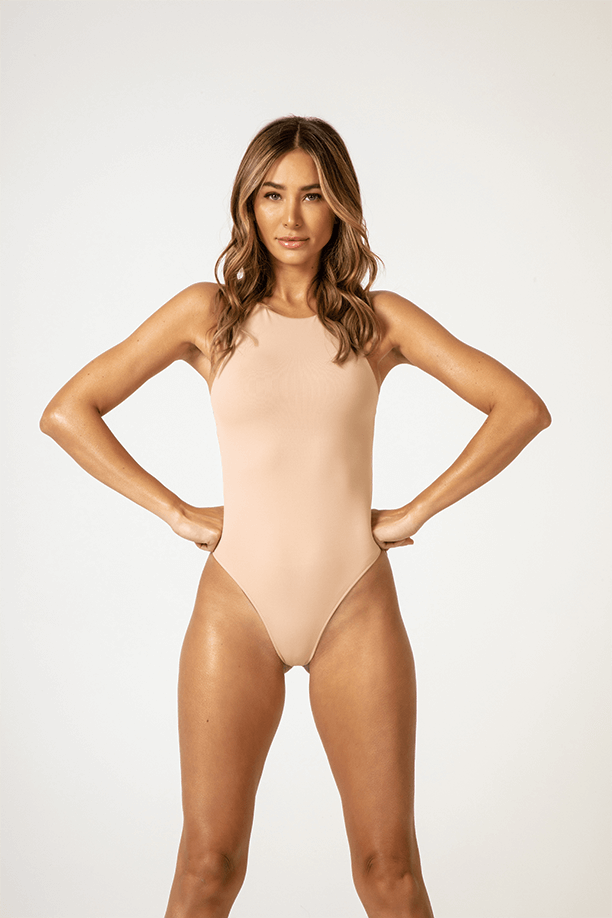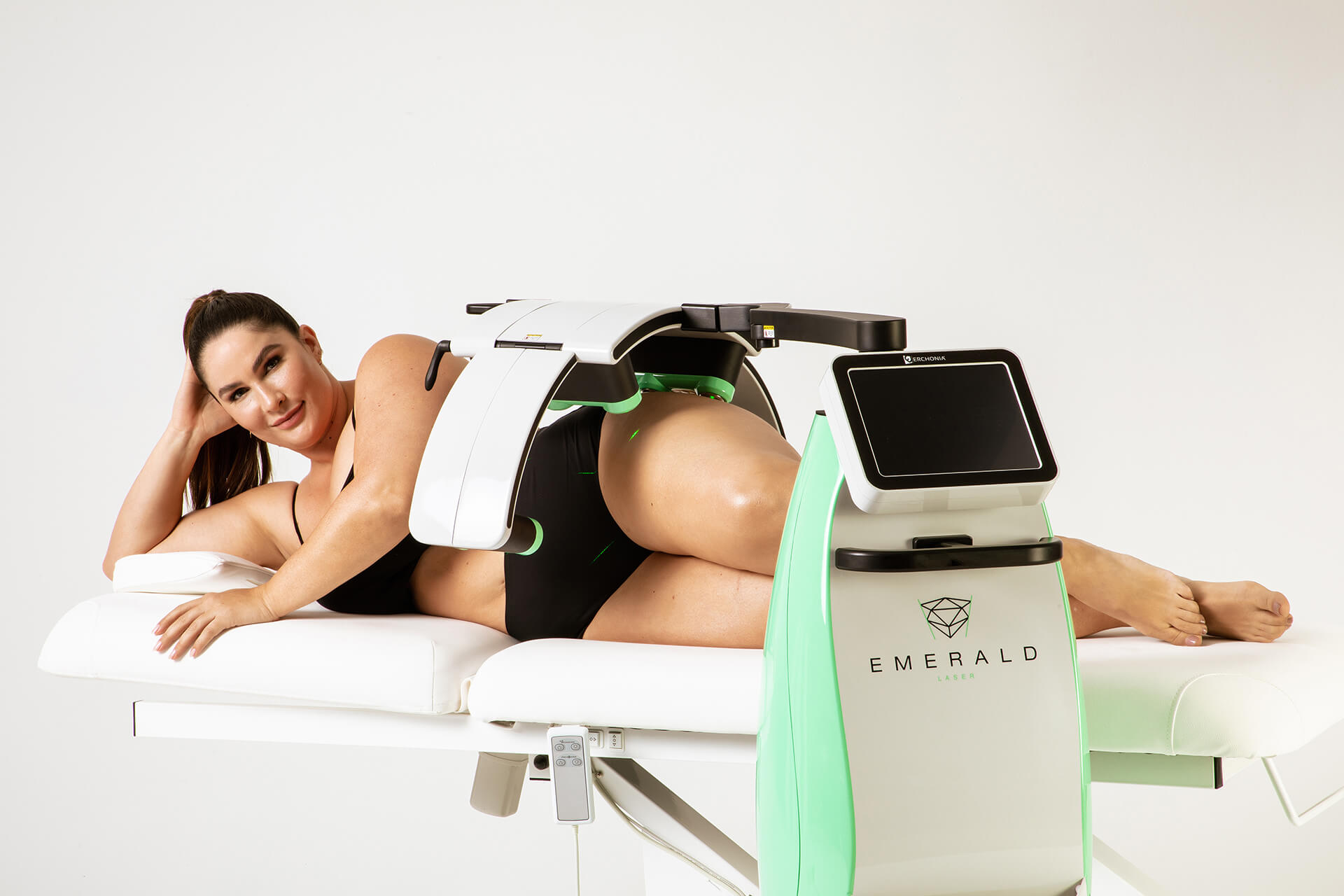 Proven & Measurable Results
The green laser technology has undergone multiple clinical studies that proved not only that it was safe but also that it was effective. Emerald Laser is the only device cleared by the FDA to treat individuals with a BMI up to 40.

No Side-effects or Downtime
No preparation is required, and there are no side effects. You can go on with your day as soon as the session is over. Laser fat loss causes no pain or discomfort.


Average circumference loss of 6"
The average circumference loss is a stunning 6". That's an incredible feat in fat loss compared to other treatments where the average fat loss is less than half of that for the same number and length of treatments.

Improve overall body circumference
The laser not only targets very specific areas but also produces dramatic decreases in measurements and weight as compared to other similar lipo laser methods.
Backed by years of research by industry-leading scientists and doctors, Emerald leverages innovative touchless technology to advance the laser aesthetic industry.
The treatment emulsifies the adipose tissue and releases excess fatty materials into the interstitial space. From there, the fat is passed through the body during its natural course of detoxification through the lymphatic system.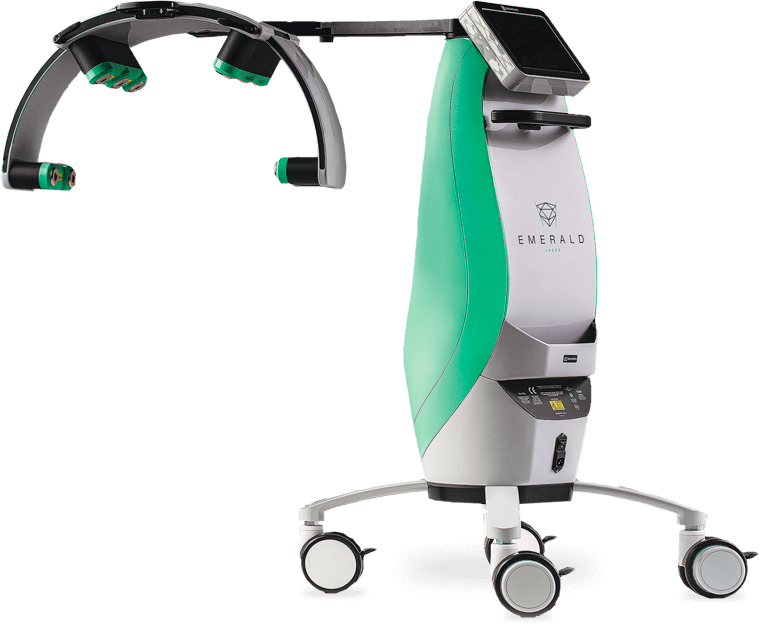 When the lasers target a group of fat cells, they penetrate down to the fat cell wall, boring tiny pores into its surface. At the same time, they emulsify (melt) the fats inside of the cell. This permits the fats to pass through the pores, where the body's lymphatic system naturally disposes them.
No pain, no side effects, or downtime.
Treatment Tips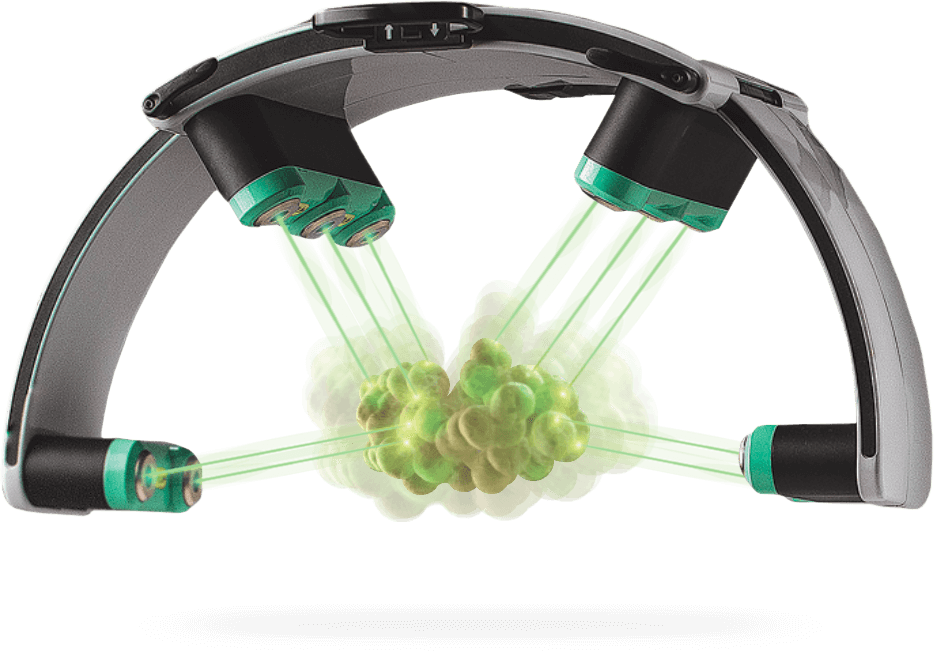 Before and After
Real clientes, real results.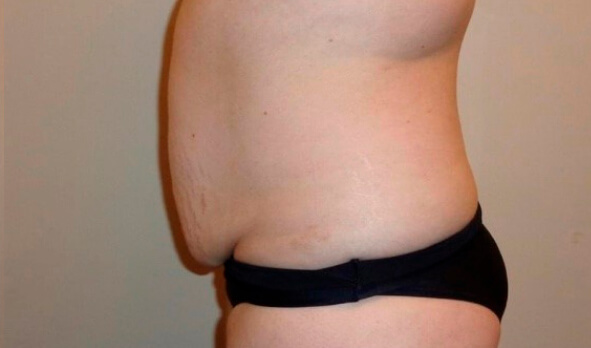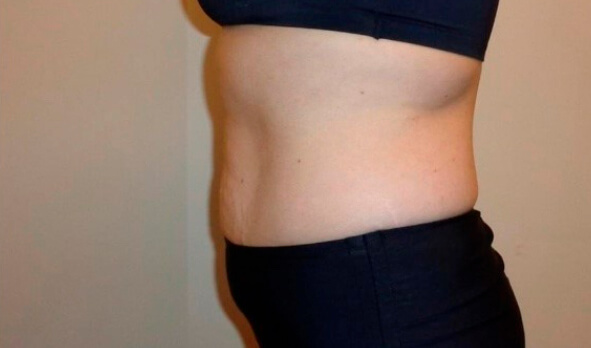 Before
Client lost 5.9 inches in 4 weeks
After
Frequently Asked Questions
How does laser fat reduction compare to other treatments?
Laser Fat Reduction has a number of benefits that traditional fat-reduction options don't. Unlike liposuction, a surgical procedure that causes bruises, redness, and swelling, and weeks of downtime, our Laser Fat Reduction is a cold fat removal treatment that causes no bruising or swelling, no side effects, and has no downtime. The treatment is non-invasive, with no discomfort or pain, and none of the risks associated with a surgical procedure such as liposuction.
How long are the treatments and how many will I need?
Each client sits down with an experienced professional to create an individual treatment plan. This plan is designed for your specific goals, and the length of the treatments will depend on the number of areas you are seeking treatment for in one visit.
How soon could you see the results?
Results vary from patient to patient and best results typically occur after 3-4 sessions. We advise that this laser treatment will be done once every week at the beginning, followed by two sessions per week and a minimum of 10 sessions in total for even better results.
How does it work?
The non – invasive laser emits green lasers onto the skin to treat fat cells. The treatment melts the fat tissue and releases excess fatty materials, which pass through the body during its natural course of detoxification through the lymphatic system.
How Close Together Can I Schedule Appointments?
For optimal results, treatments should be one week apart. This will allow time for the lipids to drain from the cells.
Will This Work for Small Amounts of Fat?
Yes! You can target small deposits of fat with laser lipo. In fact, because it can target virtually anywhere on the body, it's an excellent way to get rid of small fat deposits in hard-to-exercise spots, like the neck, chin, knees, etc.
Who Is an Ideal Candidate for Laser Lipo?
If you're an adult with a BMI under 40 and you are seeking an established fat-reduction procedure, contact us. If you are unsure of your BMI, contact us for a free Body Scanning consultation to determine whether or not Lipo Laser is right for you.
How Long Do the Effects of Laser Lipo Last?
Results with Emerald Laser are permanent as long as you stick to a calorie neutral diet after the treatment.
Does Emerald Laser kill fat cells
Unlike cryolipolysis (fat freezing) or lipectomy, the fat cells shrink, but they survive the process. This is less risky than a cell-killing process.
Treatable Areas
Chin
Safely reduce fat under the chin
Treatable Areas
Neck
Slim Your Neck
Treatable Areas
Arms
Treats any problem areas such as the arms
Treatable Areas
Armpit / Underarm
Lose that unsightly armpit fat,
Treatable Areas
Abdomen (Belly, Tummy)
Reduces overall waist circumference
Treatable Areas
Hips (Love Handles)
Reduces fat that causes love handles
Treatable Areas
Thighs
Get rid of inches around your thighs
Treatable Areas
Back
Any body part including upper to lower back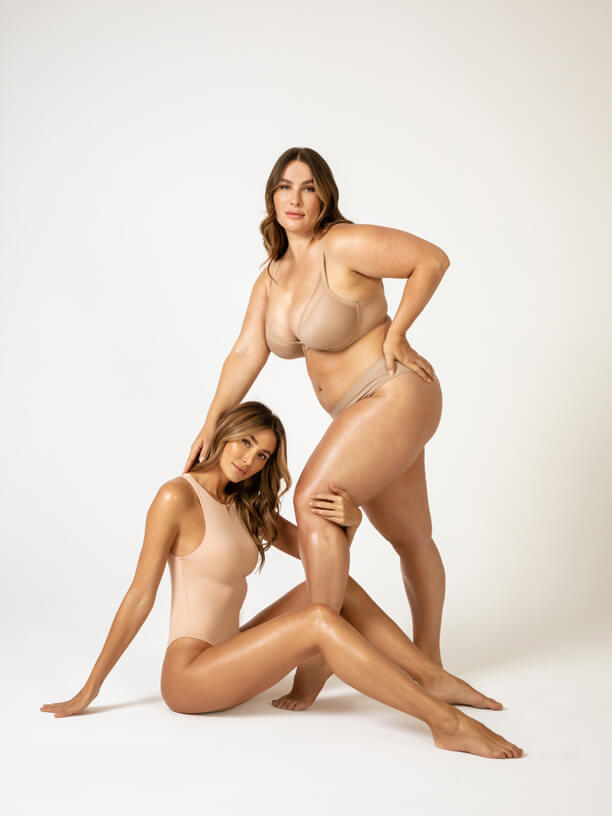 Treatment Tips

If you have recently undergone any surgical procedures, please inform your Body Sculpting Specialist prior to treatment.

It is recommended to drink more water during the treatment performance period to help the body eliminate the metabolism products of fat cells.

Stretching and/or massage.

Drink plenty of water to help flush out your lymphatic system.
The best lymphatic drainage massages in LA! You feel and see the results instantly…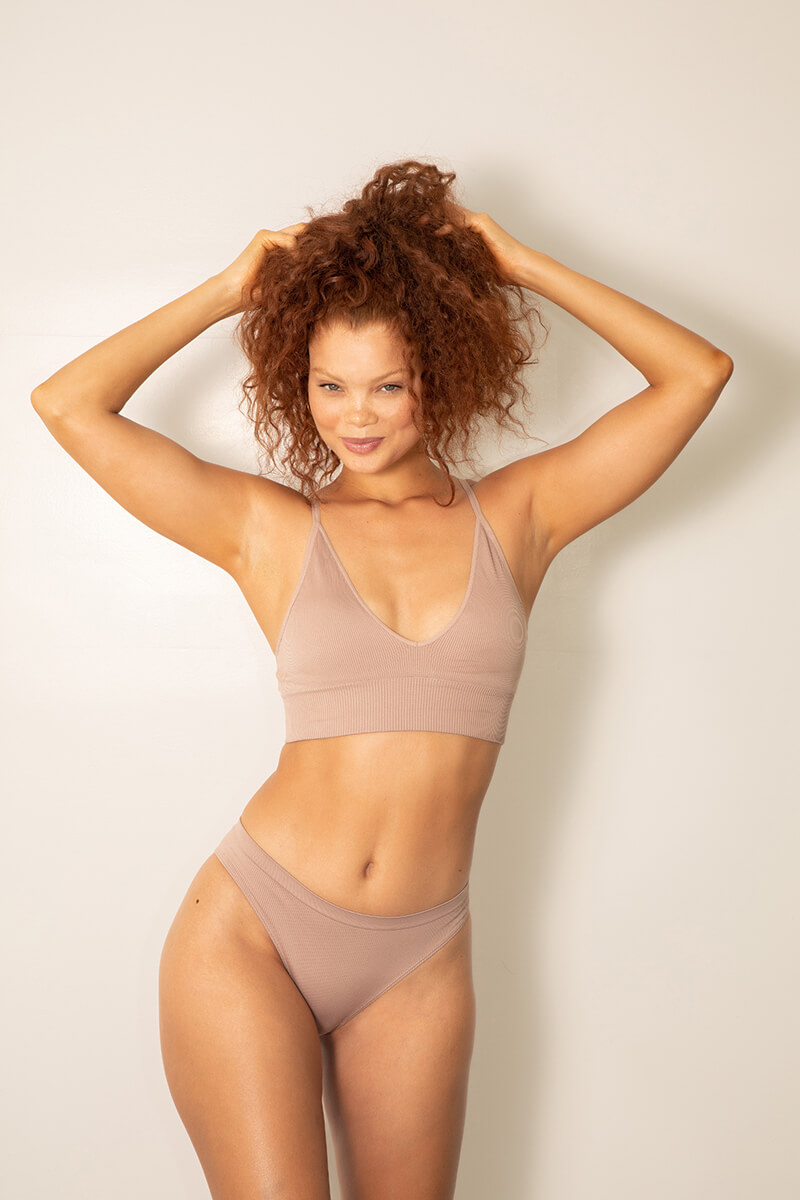 I have seen results on my body that I LOVE, make me feel confident, and keep me coming back! I always feel spoiled and pampered, if I could leave 6 out of 5 stars I would!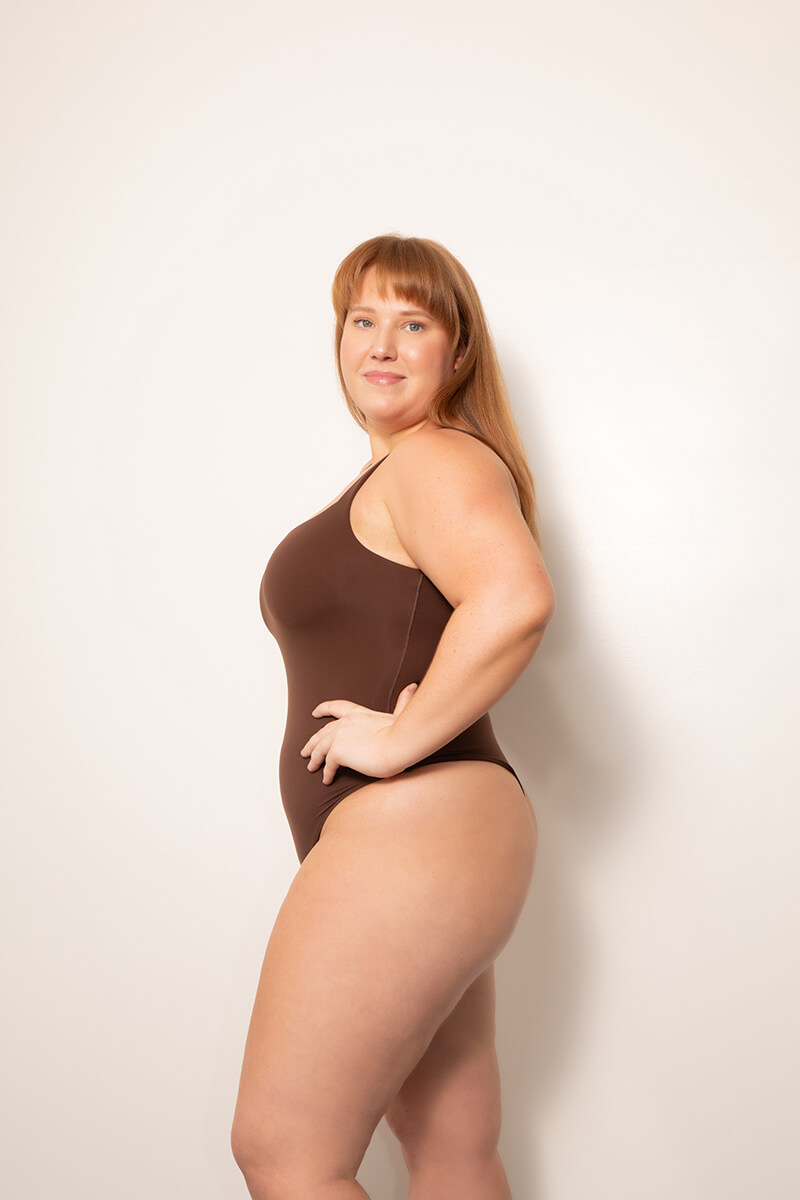 Cassie is so welcoming and has made treatments that exist on market but enhanced them.  After 4 sessions I noticed a difference.