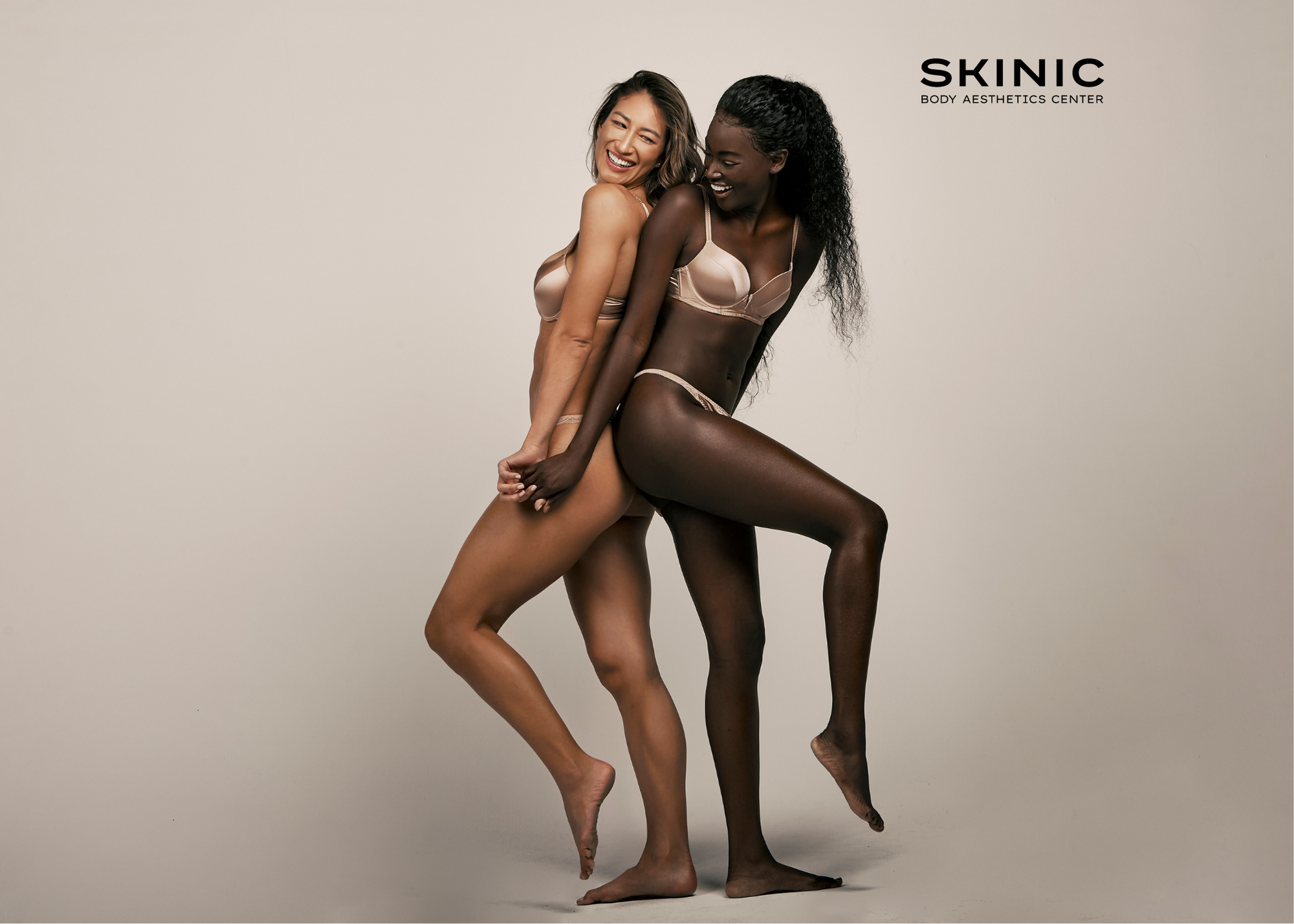 Emsculpt Neo + Miracle Sculpt: The ultimate body contouring combination
Here at Skinic we offer best-in-class body enhancement treatments to help you get the figure you want and deserve. Sometimes even with diet and exercise there are some bulges that just won't budge. That's why some of our best treatments help combat stubborn fat to help you look and feel better.
The only thing better than one treatment that offers incredible results is two and better than two is three treatments! Our latest powerful combo is Emsculpt Neo + Miracle Sculpt – three treatments in one. Emsculpt Neo's 2-in-1 treatment reduces fat while toning muscle while Miracle Sculpt contours your body so you'll walk in with one body and walk out with your dream body. When combined, these three treatments offer even better results than just one of them alone.
First, how does EmSculpt Neo work?
EmSculpt Neo uses radiofrequency and HIFEM contractions to reduce fat while simultaneously increasing muscle tone. A device is strapped onto your body at the area you want to target and the radio frequency melts the structure of the fat cells in the targeted area while the HIFEM contractions go to work to improve muscle tone with contractions 300 times faster than muscles are capable of producing on their own.
And, how does Miracle Sculpt work?
Miracle Sculpt is like getting manual liposuction. Your massage therapist will use a series of massage techniques, applied with a synchronized rhythm to create suction that breaks up stubborn pockets of fat and cellulite. The massage strokes then push them through the body so they can be flushed out by the body's lymphatic system.
What are the benefits of Emsculpt Neo?
EmSculpt Neo offers amazing benefits for our clients:
Melts stubborn fat
Tones muscles
Minimizes the appearance of cellulite
Reduces circumference of targeted areas
No downtime or surgery required
No discomfort during the session, scarring or bruising
Amazing results fast – each session is only thirty minutes!
EmSculpt Neo's fat reducing and muscle toning device can be used on the abdomen, back, waist, thighs, and buttocks. The result is a slimmer, trimmer body. Say "bye-bye" to back fat, love handles, muffin tops, and jiggly thighs, and say hello to a slimmer, sexier body.
What are the benefits of Miracle Sculpt?
Miracle Sculpt offers a series of benefits that not only give you a more contoured body but also support your body's immune system:
* Stimulates the lymphatic system
* Contours and defines the body
* Eliminates harmful toxins and pollutants
* Reduces fluid retention
* Helps regulates the immune system
* Prevents puffiness and fluid retention
* Stimulates the lymphatic system if it's dormant from travel, lack of movement, lack of water, stress, etc.
* Helps detox blockages in the body that can lead to fat cell stimulation
* Encourages prevention of cellulite, sagging skin, and swelling
* Encourages distribution of vitamins and minerals to cells and tissues in the body
Why should I combine Emsculpt Neo with Miracle Sculpt?
When combined, you get the absolute best of both treatments. One simply complements the other and getting both will not only give you better results but will help the results last longer:
While EmSculpt Neo uses safe, but powerful radio frequency to melt fat, Miracle Sculpt helps to jumpstart the body's ability to flush out the fat faster.
While EmSculpt slims down the targeted area and tones it with the HIFEM, Miracle Sculpt uses contouring massage techniques to give your body a whole new and improved shape.
You'll be amazed by the results!
What can I expect from an EmSculpt Neo and Miracle Sculpt treatment?
There are so many benefits to getting this combination treatment:
Reduced circumference
Fat loss
Reduced appearance of cellulite
Tighter skin
More even skin appearance
A more toned shape
Enhanced curves
Reduced bloating and water retention
Healthier immune system
A rockin' new body
In addition to all these benefits, both EmSculpt Neo and Miracle Sculpt offer incredible results without having to go under the knife. No downtime, no scarring, just an amazing new body without the pain and risk of surgery.
Am I a candidate for the Emsculpt Neo + Miracle Sculpt combo?
Emsculpt Neo and Miracle Sculpt are both safe and effective procedures. EmSculpt Neo is an FDA-approved treatment, and most people are able to safely receive either or both treatments. Some exceptions are pregnant women, people who use pacemakers, and people with BMIs above 35.
That being said, it's best to book a consultation to determine if Emsculpt Neo and Miracle Sculpt are the best treatments for your goals.
How can I make sure the results last?
Neither Emsculpt Neo nor Miracle Sculpt is a replacement for a healthy diet and exercise. Maintaining an ideal health regime for you will ensure that the results from your Emsculpt Neo and Miracle Sculpt treatments last longer. Though Emsculpt Neo's radio frequency eliminates fat from your body permanently, you can still put on weight afterward through poor diet and exercise choices.
You can always book additional appointments as needed to maintain the contoured and slimmed-down version of yourself you'll grow to love after receiving this amazing combination of treatments.
Conclusion
You can have the fat loss, contouring, and sculpting you desire without hitting extra hours at the gym, cutting calories, or having surgery. You'll look and feel amazing after your Emsculpt Neo and Miracle Sculpt combo sessions. No downtime, no pain, just a fabulous new body that you'll love to keep checking out in the mirror. Book your appointment with us at Skinic Beverly Hills.