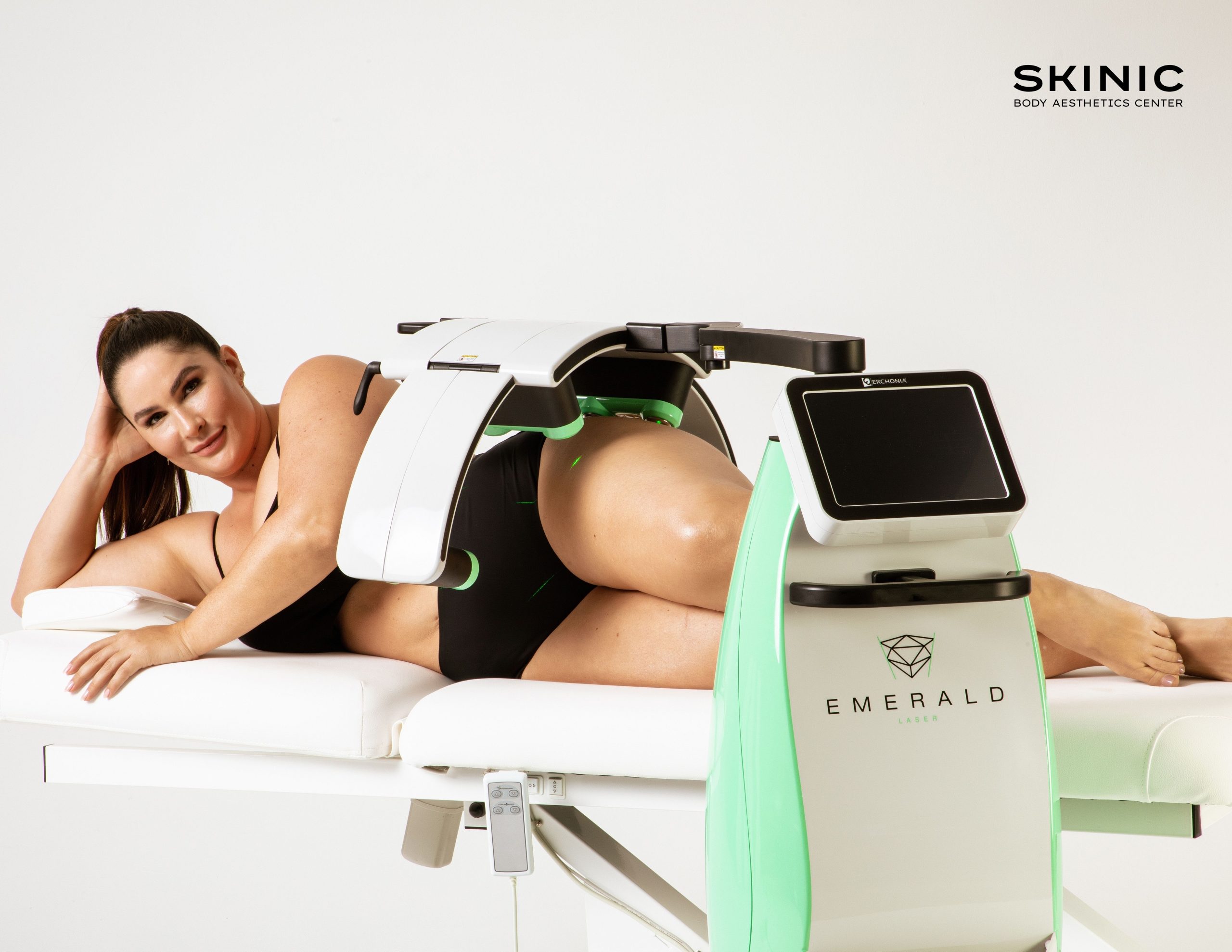 February 25, 2022
by Skinic
Emerald Laser: The Future of Fat Loss Treatment
There are many fat loss treatments out there, but here at Skinic Beverly Hills, we've struck fat loss gold – or rather, emeralds, with Emerald Laser. Emerald Laser is a cold laser for fat loss, also known as laser liposuction. Unlike regular liposuction, laser lipo gives you the benefits of fat loss without the downtime and risk associated with surgery.
Emerald Laser melts stubborn fat which your body then processes naturally through the lymphatic system. There's no pain or downtime, just astonishing results. Emerald Laser is so effective that we're proud to offer our clients this exclusive treatment. Don't be surprised if you Google "Lipo laser Los Angeles" and find us at the top of your search results. This treatment is revolutionary, and our client base can't get enough of it.
What is Emerald Laser?
Emerald Laser falls under the category of low-level laser therapy (LLLT), a type of photomedicine that uses light to treat health and cosmetic issues, including fat reduction.
Another term used to describe laser treatments is PBM or photobiomodulation. This refers to any treatment that causes a modification in a cell's outer layer. The technology behind Emerald Laser allows it to specifically target fat cells, generating effective fat loss results.
Being a Class III cold laser, Emerald Laser is also safe. Hotter lasers, Class IV, can actually burn your skin, so that's why using a cold laser is ideal for safe fat loss.
How does Emerald Laser work?
Emerald Laser emits a low-level frequency that pokes small holes in the surface of the fat cells. This essentially melts the structure of the cell so that fatty acids leak through the cell walls and are then carried through the body's lymphatic system where they are flushed out. This shrinks the fat cells, resulting in loss of measurements and weight loss.

Why is Emerald Laser the Future of Fat Loss?
Emerald Laser is the most advanced cold laser fat loss therapy on the market. The laser not only targets very specific areas but also produces dramatic decreases in measurements and weight as compared to other similar lipo laser methods. With hyper-specific targeting or unwanted fat, stunning results, and no downtime, this treatment is being offered at exclusive spas worldwide.
What areas can Emerald Laser treat?

Emerald Laser can be used to target fat in all the usual areas where we most complain about fat collecting: the thighs, including the inner and outer thighs, the abdomen, waist, buttocks, back, and arms. It can also target fat gathered around the ankles and get rid of neck fat – bye-bye turkey neck! You'll love how you look in jeans and you won't have to keep finding clever ways to hide your bat wings, love handles, muffin tops, back fat, and even the dreaded turkey neck (get rid of your scarves and turtlenecks for good!). Meeting your fat loss goals can help to boost confidence and help you feel like your best and healthiest self.

What kind of results can I expect from my Emerald Laser treatments?
The results of Emerald Laser vary with each person, but clients are raving about the dramatic fat loss results. Some clients see incredible results after just one session. Some require a few sessions to get the results they want. The average circumference loss is a stunning 6". That's an incredible feat in fat loss compared to other treatments where the average fat loss is less than half of that for the same number and length of treatments.
How many Emerald Laser treatments should I get?
Again, it depends on your fat loss goals, but the average client receives 6-10 sessions. When you come in for your consultation, our specialist at Skinic will help determine the number of sessions you'll need to achieve your ideal measurements and weight.
Are Emerald Laser treatments painful?
No, Emerald Laser treatments are totally pain-free. Unlike other fat loss treatments that involve surgery or uncomfortable methods, Emerald Laser is a piece of cake. You can literally drop in and get treatment during your lunch break and then go back to work without anyone knowing you just got a fat loss treatment. Emerald Laser treatments don't leave marks or scarring so you can get a treatment and wear something that shows some skin right afterward and no one will know except for your technician and we're not talking;)
Are there any risks associated with Emerald Laser?
Emerald Laser is an FDA-approved fat loss treatment. It's pain-free and there's no downtime after getting treatments. Another amazing feature of Emerald Laser is that it's approved to use on clients with BMI of up to 40, much higher than most lipo laser treatments. It's even being suggested as an alternative to bariatric surgery. It really is the fat loss solution for everyone.
However, it is contraindicated for pregnant women (although a lot of our post-partum clients are loving the treatments to take off the baby weight) as well as those who use pacemakers or are currently dealing with cancer.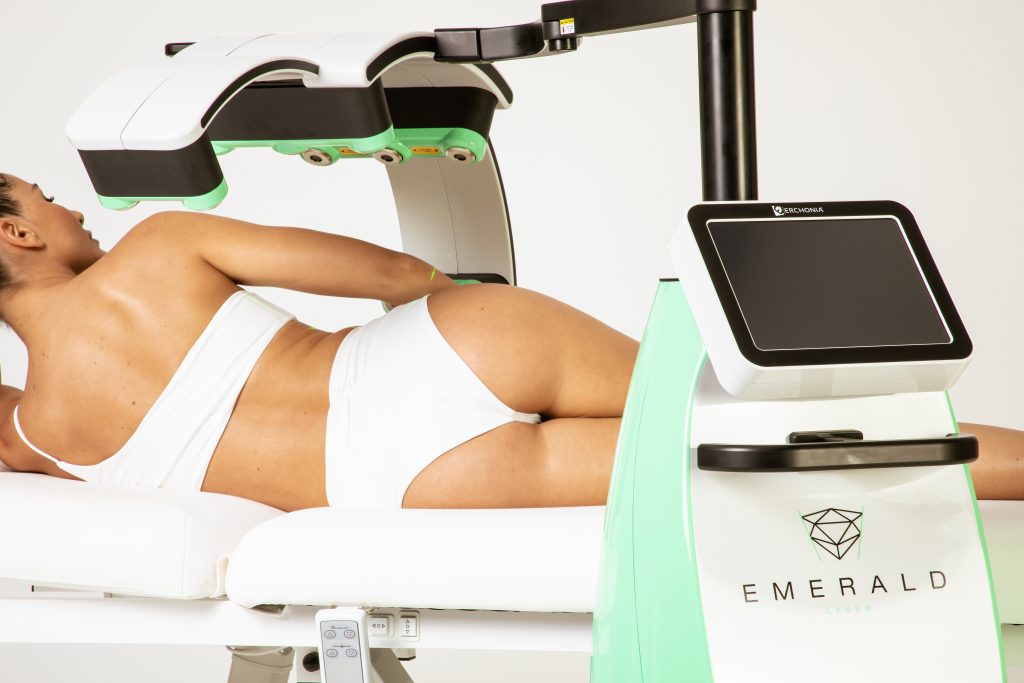 How can I get the most out of my Emerald Laser treatment?
Since the fat released in your cells will be expelled from your body through the lymphatic system, you can book a lymphatic drainage massage to help the process along. Drinking plenty of water can also give the body a hand in flushing out the fat cells faster.
The weight and measurement loss you experience with Emerald Laser can be extended if you take good care of your body afterward. Making sure you stick to a balanced diet and exercise regime will help you keep the weight off.
Conclusion
Anyone looking for a safe and effective way to get rid of excess fat, reduce measurements, and feel more confident should book an Emerald Laser treatment. With no pain, no downtime, and amazing results, Emerald Laser exclusive treatments are making waves at Skinic. Book an appointment and be on your way to feeling and looking your absolute best.