November 23, 2021
by Skinic
What is Miracle Sculpt massage?
What is Miracle Sculpt and why has this massage technique become so popular?
Have you been looking for a massage for cellulite? Have you Googled "lymphatic drainage " and gotten a bunch of results that looked complicated and painful?

What if there were a massage that gave you not only a pain-free lymphatic drainage experience, but on top of that also contoured and shaped your body without any invasive procedures?

Well, now there is. It's called Miracle Sculpt.
How does Miracle Sculpt work?
Miracle Sculpt involves specific massage techniques, including a carefully synchronized rhythm, pressure and about twenty different hand movements, that serve as a sort of manual liposuction, reducing liquid retention, breaking up fat and cellulite while increasing blood circulation.
The technique targets areas where fat accumulates, such as the abdomen, buttocks, thighs, back, arms and can even be used on the face, helping bring contour and definition back to your body and even to your facial structure.
How is Miracle Sculpt different from lymphatic drainage?
Miracle Sculpt is a more complete massage experience because, unlike lymphatic drainage, it's also a shaping massage. While lymphatic drainage uses techniques to push retained water towards the abdomen where it can be flushed out by the lymphatic system, Miracle Sculpt uses patented massage techniques to not only drain the body of excess fluid but specifically target areas where fat and toxins accumulate to give you a more sculpted and defined body. With lymphatic drainage, you'll be less bloated overall, but you won't get that sculpted effect that slims the waist, evens skin texture, emphasizes curves, and brings out muscle definition like with Miracle Sculpt.
Why should I book a Miracle Sculpt massage?
Once you get a Miracle Sculpt massage, you'll be hooked! It's that effective. One of the most impressive things about Miracle Sculpt is that you'll see results after the very first session. You don't have to wait for months or pay a fortune for invasive and risky surgery.
You'll see a more shapely, defined, and beautiful body after just a one-hour session. There's no other massage like this on the market.
Not only will you see stunning results, but unlike some deep tissue and lymphatic drainage massages that can be painful and leave unwanted red marks and even bruises, the Miracle Sculpt massage is actually enjoyable and relaxing. You might even fall asleep while our massage therapist works miracles.
There are no contraindications for Miracle Sculpt. The only people not recommended to have it are those undergoing cancer treatments and those with fever as the movements of the technique and the increased blood circulation can aggravate those conditions.
Do you want to get rid of fat and cellulite? Longing to eliminate liquid retention? Would you like a leaner, more defined physique? If you answered yes to any of these, I urge you to book a Miracle Sculpt session.
Other people who love Miracle Sculpt:
Women who are pregnant and are experiencing liquid retention in the legs and feet love Miracle Sculpt's ability to relieve their discomfort.
Fitness aficionados enjoy how Miracle Sculpt enhances their muscle definition, putting the finishing touch on their hard-earned results.
Ladies who want to look their best whether it's going on a first date, a big event for their company, a photoshoot, at the gym or just showing off in their bikini by the pool or beach.
Health-conscious individuals who want to enhance their body's ability to remove toxins, leaving their immune system in better shape and their mind more clear and focused.
How should I prepare for a Miracle Sculpt massage?
To get the most out of your Miracle Sculpt experience:
We recommend staying well-hydrated at least 4 hours before your massage. That way it will be easier for our Miracle Sculpt massage therapist to flush out the toxins and break up stubborn fat. If you're under-hydrated, the massage won't be as effective.
Eat a light meal before your massage and leave at least 90 minutes after eating before your message.
Try to arrive a few minutes early so you can decelerate from your busy day and slip into the tranquil and relaxing world we've created for you here at Skinic.
How can I maximize the benefits of my Miracle Sculpt experience?
We're sure you'll love the effects of your Miracle Sculpt massage and probably won't be able to resist catching yourself in the mirror every chance you get.
To keep the momentum rolling on your beautiful new sculpted body, make sure to:
Drink plenty of water to help the process of flushing out toxins started by the Miracle Sculpt massage.
Avoid a heavy meal right after a Miracle Sculpt massage. This isn't just to maintain the curves, but also not to overload your body with toxins as it's still in the delicate process of flushing them out of its system.
Maintain a healthy diet and exercise routine.
For ideal body shaping maintenance, we recommend up to two Miracle Sculpt massages per week.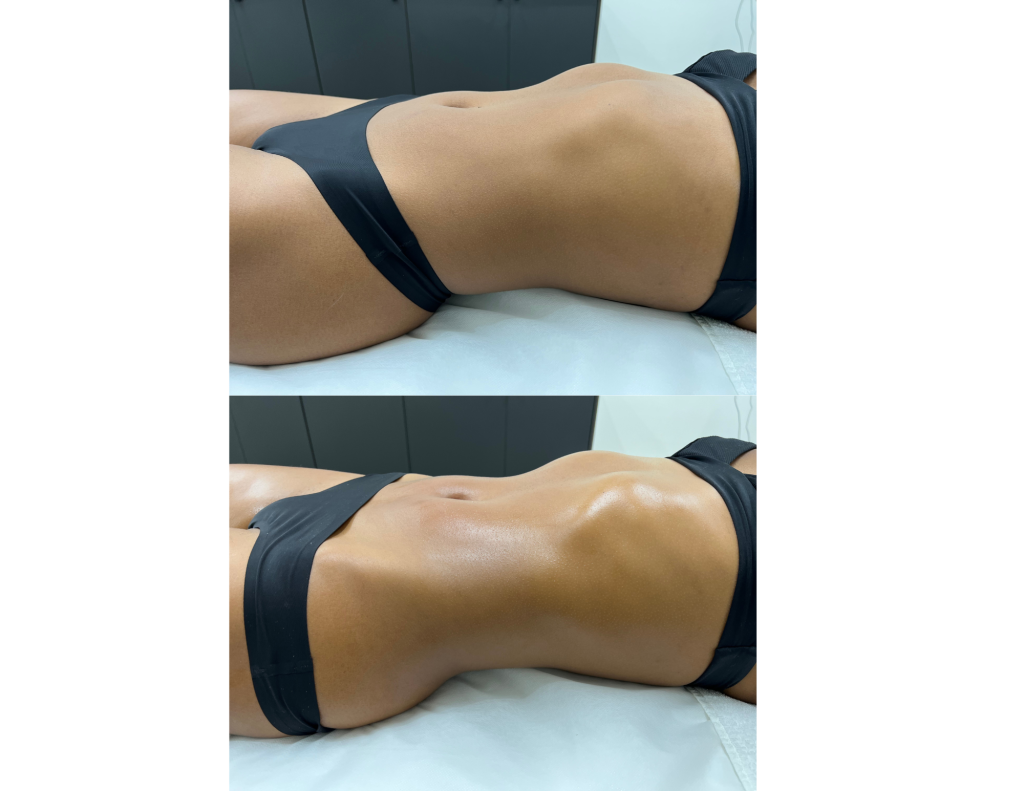 Conclusion
Our body experts at Skinic have created this incredible massage that's available exclusively to our clients. If you want an amazing contouring massage that lets you say "Adeus" to water retention, fights cellulite and creates curves you didn't know you had, you'll love Miracle Sculpt!