December 20, 2022
by Skinic
Evolve X vs EMSculpt NEO: Which treatment is best for you?
At Skinic, Beverly Hills, we're proud to offer our clients the very best in medspa treatments. We're extra excited to offer two of the most complete fat reduction and skin tightening treatments on the market: EmSculpt Neo and Evolve X.
Both offer multiple treatments in one session, and both use top-of-the-line revolutionary radio frequency (RF) to achieve stunning results for skin tightening and fat loss. But while EmSculpt Neo concentrates on body shaping through fat reduction and muscle toning, Evolve X zeros in on cellulite and skin tightening.
How does the RF technology work? Who are the ideal candidates for these treatments? What are the benefits of each treatment? And, most important, how do you know which treatment is right for you? We'll explore all these questions and more in this post.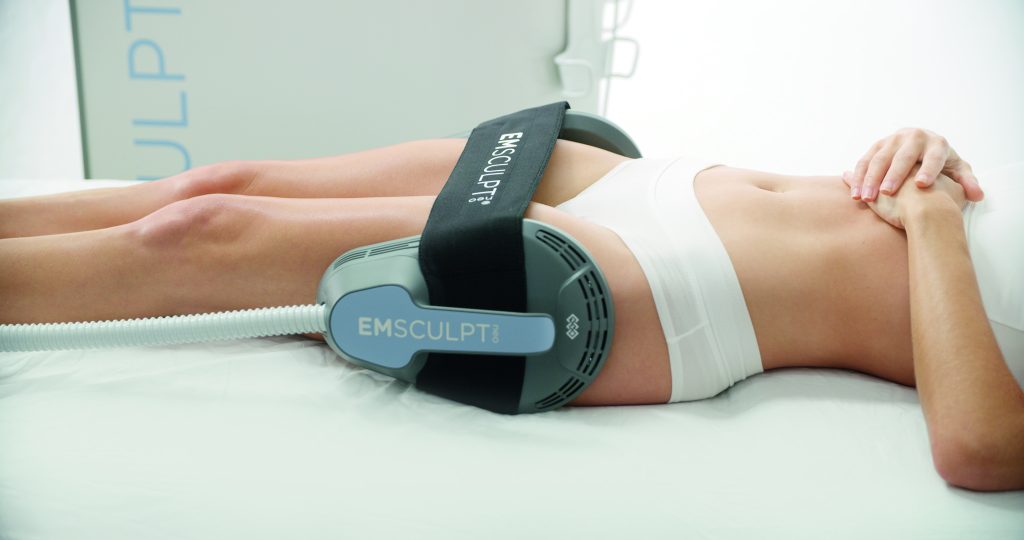 How do Evolve X and EmSculpt Neo work?
Both treatments use multiple technologies to deliver incredible results. Learn about how they do it.
Evolve X
Evolve X is a hands-free cellulite treatment and skin tightening treatment. It uses three applicators that each bring different results:
Tite – the Tite applicators use RF waves to melt subcutaneous fat. This heating also stimulates the body's collagen production which tightens the skin and improves elasticity.
Tone – the Tone applicators use EMS (electrical muscle stimulation) technology to cause spontaneous muscle contraction, breaking up cellulite and improving skin tone.
Transform – the Transform applicator uses both RF and EMS in the same applicator to enhance skin tightening and skin tone simultaneously.
EmSculpt Neo
EmSculpt Neo uses RF waves to target and melt stubborn fat and HIFEM (high intensity focused electromagnetic) to drastically increase muscle mass.

Why use RF waves?
RF waves are a revolutionary noninvasive way to melt fat by penetrating the subdermal adipose tissues, breaking down the fat cell structures and resulting in permanent fat loss. Additionally, RF waves heat the treated areas up to 140 degrees, stimulating new collagen production which results in tighter skin.
What's the difference between EMS and HIFEM?
EMS (electrical muscle stimulation) used in Evolve X gives a more superficial treatment to the muscle group targeted. This treatment is more effective on clients who are close to their ideal BMI. It works wonders to break down cellulite which is closer to the skin's surface.
HIFEM (high-intensity focused electro magnetic) penetrates much more deeply and is effective for clients with BMI's up to 35. It stimulates the whole muscle group being targeted, resulting in significant muscle gain and fat loss, including visceral fat which is notoriously hard to lose. When targeting the lower abdomen, EmSculpt Neo mimics up to 30,000 crunches in a 30-minute session. The RF + HIFEM used in Emsculpt Neo provides drastic results, with clients experiencing an average of 30% in fat loss and 25% more muscle after treatments.
What areas do Evolve X and EmSculpt Neo treat?
Evolve X can treat:
Abdomen
Arms
Flanks
Hips
Thighs
Knees
Buttocks
EmSculpt Neo can treat:
Abdomen
Buttocks
Arms
Legs
Calves
What are the main similarities and differences between Evolve X and EmSculpt Neo?
Both treatments use multiple technologies to shape the body, however they are each unique in the areas they focus on. To determine which treatment is best for you, it's important to know the different benefits they offer.
Similarities:
Both treatments use RF to target and melt fat
Both are noninvasive treatments with no downtime
Both treatments are pain free
Differences:
EmSculpt Neo ramps up the muscle toning with HIFEM, a stronger technology than the EMS used in Evolve X.
Evolve X is more versatile, having a total of 13 different applicators that allow our specialists to target the exact area(s) the client wants to improve
EmSculpt Neo on the other hand has one device that offers a 2-in-1 body-shaping treatment.
The focus of EmSculpt Neo is on body sculpting through increased muscle tone while Evolve X's focus is on targeting cellulite and tightening the skin.
Evolve X is more effective for clients closer to their ideal body weight, while EmSculpt Neo can be effective for people with a BMI of up to 35.
How many sessions will I need to see results?
On average, clients book a minimum of 4 EmSculpt Neo sessions about a week apart.
For Evolve X, clients generally receive a few more treatments, between 6-8 treatments, also booked a week apart.
However, each client's goals and starting points are unique. To determine the best treatment plan for you, you'll receive a 1:1 consultation with one of our specialists.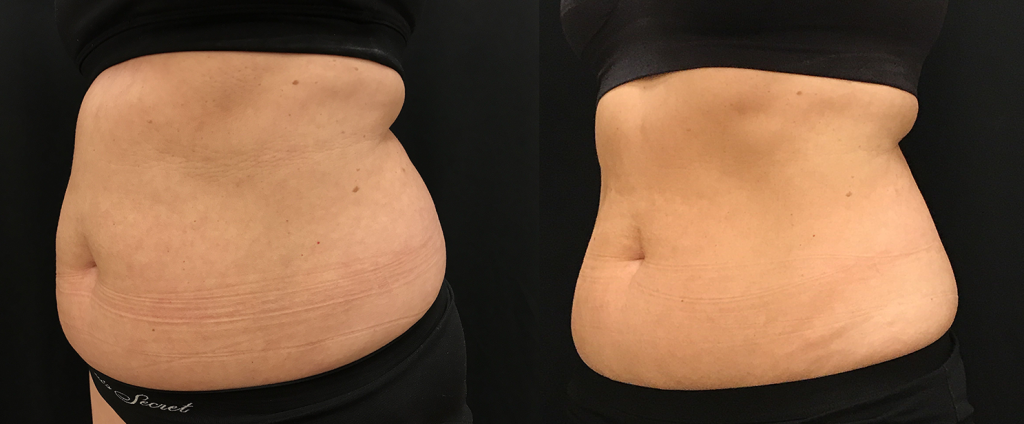 How soon will I see results?
For both of these treatments, you'll start to see results immediately after the first treatment. However, when breaking down fat cells, the body takes time to expel the fat through the lymphatic system. To see the full results, it may take up to 3-6 months, during which time you'll notice a gradual reduction of fat and improved muscle and skin tone.
Who can get Evolve X and EmSculpt Neo treatments?

Both Evolve X and EmSculpt Neo are FDA-approved, making them totally safe for almost everyone. However, due to the RF frequency used in both treatments, they're counter-recommended for pregnant women. It's also not recommended for people who use pacemakers to receive either treatment as the RF waves can interfere with their device.
Both treatments are safe for all skin tones.
If you have any doubts about whether the treatments are right for you, our specialists will be more than happy to answer all your questions!

What can I expect from my Evolve X and EmSculpt Neo sessions?
Skin warming – Both treatments use RF waves, so you'll feel warmth in the areas being treated as the RF waves heat up the subcutaneous fat. Some clients say it's like getting a hot stone massage.
Muscle soreness – Both also use different forms of muscle contraction – Evolve X uses EMS and EmSculpt Neo uses HIFEM. Both technologies cause the muscles to spontaneously contract, so you'll feel a little sore afterwards, the type of soreness you feel after a moderate-intense workout.
Length of session – With Evolve X, the length of the session can vary from 20 minutes to an hour depending on the number of applicators used and the areas being treated. With EmSculpt Neo, sessions typically last 30 minutes.
Conclusion
Both Evolve X and EmSculpt Neo use state-of-the-art technologies to deliver incredible results with Evolve X being the go-to treatment for cellulite reduction and skin-tightening and EmSculpt Neo providing impressive results in body shaping through fat loss and muscle toning. If you're Googling EmSculpt Los Angeles or Evolve X Los Angeles, you'll find Skinic Beverly Hills medspa at the top of your search. That's because our priority is offering you the best treatments on the market. Still have doubts about which treatment is right for you? Contact us to book a consultation or click the button bellow to book your appointment.